MAJOR JANUARY 2018 WEBSITE

UPDATE IN PROCESS
Remember always; Excellence is our Aim……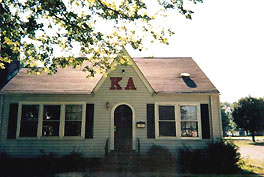 I have been young, and now am old;
yet have I not seen the righteous forsaken, nor his seed begging bread…..
Psalm 37:25
First Chartered in 1969, The Delta Nu Chapter of Kappa Alpha Order was an honor to the Order, an asset to the campus and the Brothers worked hard to accomplish a number of worthy goals and good works.
The purpose of this website is to preserve what was for those of us who participated, and for those who perhaps may follow in the future.
Delta Nu's Charter was never revoked. The Charter was suspended when membership fell to fewer than the required number of men.
Please contact Webmaster with suggestions, corrections and any scanned photos, documents or other memorabilia.
Site last updated 1/22/18
KEEP WATCHING, THERE IS SO MUCH MORE TO COME
Kappa Alpha Order Video Report